Much of Black Sheep Squadron is made up. The TV show, which originally aired under the title Baa Baa Black Sheep in the late 1970s, takes place on the fictional island of Vella la Cava. Fictional characters comprised the bulk of the squadron of pilots — from Bob Anderson (a young John Larroquette in his first major role) to Jerry Bragg (Dirk Blocker).
But Greg "Pappy" Boyington? The main character? He was 100% real. The Marine Corp pilot flew his way into the history books as one of the most renowned aces of World War II. Serving in the South Pacific, Boyington led the courageous VMF-214 fighter squadron, dubbed the "Black Sheep." Boyington would serve as a consultant on the television series based on his career.
Robert Conrad was the perfect man to play "Pappy." The Hollywood tough guy famously performed his own stunts as the star of The Wild Wild West.
Let's dive into this aerial adventure series. Here are 10 fascinating facts about one of the great war shows.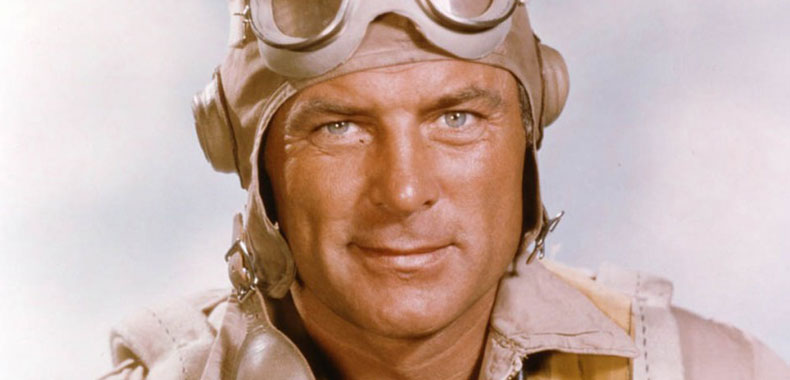 Watch Black Sheep Squadron on H&I
Saturdays at 6 PM Eastern/Pacific
1
The real-life "Pappy" had a role on the show.
Keep your eyes peeled for the real World War II ace. Greg Boyington portrayed Gen. Harrison Kenlay in three episodes, seen here in his first appearance in "Deadliest Enemy of All." A handful of episodes later, in "The Fastest Gun," he turned up in a newsreel pinning a medal on Robert Conrad.
2
Robert Conrad almost didn't get the part due to his reputation.
Black Sheep producer Stephen J. Cannell — the action king behind shows like The Greatest American Hero, Hunter, The A-Team and so much more — was reluctant to cast Conrad, according to the actor himself. In an interview with Tony Medley for the book Sweaty Palms, Conrad recalled, "[Cannell] knew that I had a history of off-camera activities that were somewhat challenging. Never was I unprofessional at work. But after work with the cameras shut down, I went across the street to the bar, the tavern, and all hell would break loose… fights, pretty much barroom brawls." No wonder he's introduced in a boxing ring on the show.
3
Robert Conrad once passed on playing another iconic TV airplane pilot.
Conrad had the chance to play U.S. Air Force Captain and astronaut Tony Nelson in I Dream of Jeannie. In that same Medley interview, Conrad explained with regrets, "I turned that down because I would take second billing to [Barbara Eden]. She was going to get star billing and I thought, I think I'm at a time in my career where I ought to be on top. So I passed on that." He does seem better suited for air combat than sitcoms.
4
A certain cast member had to take a day off when Elvis died.
Red West played the gruff, cigar-chomping Master Sergeant and mechanic Andy Micklin on Black Sheep. Prior to the show, West had a fascinating career, sparked by meeting Elvis Presley in high school. The onetime boxer and football player became a close confidant of the King, writing songs with Elvis and standing by his side for years. Though, there was an eventual falling out and West was fired from the entourage. Still, on August 16, 1977, when Presley passed away, West was on set. The production gave him the day off to deal with the death.
5
The Zeroes used on the show were previously seen in 'Tora! Tora! Tora!'
The "Japanese" aircraft seen on the show (they were North American Aviation T-6 Texan planed modified to look the part) were originally crafted and used for the classic 1970 war film Tora! Tora! Tora!
6
One of the biggest rock stars of the 1970s appeared in the series finale.
Aside from playing himself years later on The Drew Carey Show and Madam Secretary, Peter Frampton has just one screen credit performing a fictional role on American television. He plays a Brit named Peter Buckley in "A Little Bit of England," the last episode. Frampton reportedly offered to lop off his beautiful curly, blond locks, but producers let him keep the hair — his character was supposed to have been living in the jungle for a good while. At the time, his album Frampton Comes Alive! was hanging around on the Billboard charts for a whopping 97 weeks.
7
Two dogs played "Meatball."
Before Spuds MacKenzie came along, another bull terrier stole the hearts of TV audiences. We're talking about "Meatball," Pappy's pup and the mascot of the Black Sheep Squadron. Two different pooches played Meatball, one for scenes with actors and another for stunts, at least according to the woman who ended up owning "Bounty," the stunt dog.
8
This is the son of Hoss.
That would be Dirk Blocker, son of Dan Blocker. You know Dan from playing Eric "Hoss" Cartwright on Bonanza. Dirk, who played pilot Jerry Bragg, is the spitting image of his father, no?
9
The show cast Conrad's daughter to compete with Charlie's Angels.
In 1978, Black Sheep moves to a new night, Wednesdays. It was suddenly facing a new, formidable foe — Charlie's Angels, which quickly became one of the hottest things on TV, kicking and hair-tossing its way to No. 4 in the Nielsen ratings. Black Sheep struggled for eyeballs. But the show did not go down without a fight. Black Sheep cast its own crew of beauties to play nurses, cheekily dubbing them "Pappy's Lambs," in a not-so-subtle nod to Charlie's Angels. Included in this influx of blondes and brunettes was Nancy Conrad, daughter of Robert Conrad.
10
The theme song is called "The Whiffenpoof Song."
In the opening, a choir of men sing, "We are poor little lambs / Who have lost our way / Baa, baa, baaaaa." This is the chorus of "The Whiffenpoof Song," an a cappella number that dates back to Yale University in 1909.